Authentic Culture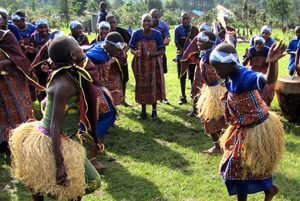 Situatedat the geographical heart of the African continent, Uganda has long been a cultural melting pot, as evidenced by the existence of 30-plus indigenous languages belonging to five distinct linguistic groups, and an equally diverse cultural mosaic of music, art and handicrafts.
The country's most ancient inhabitants, confined to the hilly southwest, are the Batwa and Bambuti Pygmies, relics of the hunter-gatherer cultures that once occupied much of East Africa to leave behind a rich legacy of rock paintings, such as at the Nyero Rock Shelter near Kumi.At the cultural core of modern-day Uganda lie the Bantu-speaking kingdoms of Buganda, Bunyoro, Ankole and Toro,whose traditional monarchs – reinstated in the 1990s after having been abolished by President Milton Obote in 1967 – still serve as important cultural figureheads. According to oral tradition, these centuries-old kingdoms are offshoots of the mediaeval kingdoms of Batembuzi and Bachwezi, which lay in the vicinity of present-day Mubende and Ntusi. Three former kings of Buganda are buried in an impressive traditional thatched building at the Kasubi Tombs in Kampala.

Thanks to these distinct languages and kingdoms, as well as vast geographical and climatic differences between the regions, Uganda's communities still retain many fascinating cultural distinctions. These are commonly displayed through their music, dance, cuisine, crafts, folklore, and traditional healing rituals; and with the emergence of community tourism, visitors are now invited to discover this wonderful cultural mix for themselves.
Learn about the totems of Uganda: A totem in the Ugandan context is a symbol that represents a group of people with a common ancestral origin known as a clan. Click here for details.