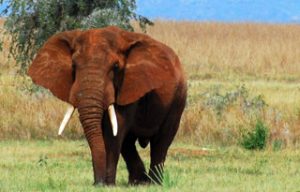 Red Chilli Safaris
Red Chilli Safaris is Uganda's first choice for backpackers and independent travellers on a budget. Our all-inclusive package tours to Murchison Falls National Park and Queen Elizabeth National Park run several times a week, and include a free night's accommodation in Kampala before departure, as well as return transport from the capital.
Our great value accommodation is perfect for meeting other travelers around the campfire or in the open-sided common room and bar. It is also superbly located for starting each day's activities, which means it is perfect for early morning game drives, and allows us to pack as much as possible into our two to four day safaris.
We also offer boat tours up the Nile to Murchison Falls, and along the Kazinga Channel, for some of the most impressive wildlife viewing opportunities.
For those looking for something a little more exclusive, we also offer specially designed trips, with itineraries organized around our clients' interests.
Activities Offered
Game drives
Boat tours
Chimp tracking
Visit to Ziwa Rhino Sanctuary
Visit to Murchison Falls
Community walks and craft workshops
Guided forest walks
Scenic drives past crater lakes
Responsible Travel
Red Chilli supports local community tourism initiatives such as the Kikorongo Women Group Craft Workshop and a local Community Walk.
We also include trips to Ziwa Rhino Sanctuary to promote biodivsersity conservation.
Our Rest Camp at Murchison Falls has limited electricity and is hoping to install solar hot water systems and a community craft shop.
Available Vehicles
Experience your safari in comfortable buses
Pearls Supported
Contact
Tel: +256 (0) 414 223903
Mobile: +256 (0) 772 509150
Email: Please see our online
enquiry forms
Website:
www.redchillihideaway.com
Contact us for more information about Pearls of Uganda
Email: info@pearlsofuganda.org