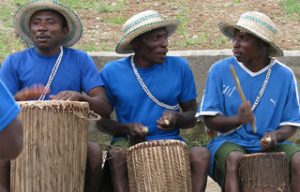 Kikorongo Equator Cultural Performance
Location: At lodges in and around Queen Elizabeth National Park
Kikorongo means "Too Much Sunshine" in the local language of Lukonzo – but the intense heat of the African plains has done nothing to diminish the energy of the Kikorongo Equator Cultural Performers! This vibrant performance is a wonderful glimpse of life in Kikorongo, with dance, drama, songs and even a fire-making competition.
Songs and dramas tell the story of a man looking for a wife, and a sick child who is brought to a traditional healer – an essential member of Ugandan villages even today. An energetic dance calls upon the ancestors, whose spirits take over the bodies of the dancers. Community members who are too old or infirm to dance are given wooden puppets – so that everyone in the village can join in! The lively performances are accompanied by the music of traditional drums, a flute and a wooden xylophone called ndara, which can be played by up to four skilled musicians at a time.
---
Highlights
Sit back and watch life in a Bakonzo village unfold in front of you! Stories of health, spirituality, celebration and romance are beautifully presented by the dancers.
Discover the ancient skill of fire making. As two villagers compete to create flames, you will see just how exhausting it really is!
Learn through music and dance. An interpreter presents each performance, translating the words of the songs and explaining the stories in the dramas
Responsible Travel
Several women in the group were widowed as their husbands were poachers. The performances give both married and widowed women the chance to uplift their social, cultural and economic status. The community has suffered from a loss of crops due to damage by wild animals. Participating in tourism activities allows them to benefit from the existence of the National Park, rather than being threatened by it.
Through dance and drama, the Kikorongo Women Community educates community members about safe motherhood, the importance of clean drinking water and hygiene, handicraft making and reducing poaching. Money raised through tourism allows this education to continue. The average household contains six people, but each household makes less than 40,000 Ugandan Shillings (less than $20 US) per month – so your money goes a long way!
Contact us for more information
Email:  info@pearlsofuganda.org
Phone: +256-414501866+256-414501866 / +256-772657700+256-772657700
Duration
Performances of 30 minutes and one hour are available
What to Bring
Tips for community members, and extra cash for craft purchases
Price
Free for lodge guests
30 minutes: – 100,000 UGX at the Kikorongo Cultural Centre
1 hour: – 180,000 Ugx at the Kikorongo Cultral Centre
Book with these operators & lodges:
Related items (by Catalog)