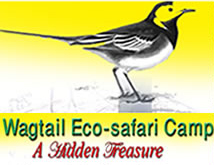 Wagtail Eco Safari Camp
Location: Bordering Murchison Falls National Park
A Ugandan farmer who spots a wagtail in the morning knows he is in for some good luck and a rich harvest. Named after this symbolic bird, Wagtail Eco Safari Camp also hopes to benefit local farmers and the surrounding community of Rubuguri through the Camp's tourism, cultural and development activities.
Guests will enjoy the relaxed atmosphere, sociable common areas, leafy gardens and views of Bwindi Impenetrable National Park – home to mountain gorillas. Private bandas are constructed in harmony with the surrounding nature, and are comfortable and secluded. Guests on a tighter budget can stay in a single room, or at the pretty campsite The affordable restaurant serves international or local breakfast, lunch and dinner. Guests are encouraged to participate in the evening cultural performances and lessons at the neighboring Nkuringo Cultural Center – an enjoyable and fulfilling way to give something back!
Lodge Amenities
The bandas are beautifully crafted from natural materials and contain handmade wooden beds. The bandas and safari tents have electricity and private bathrooms with flush toilets and hot water.
Room Description
The single rooms have electricity and shared bathroom facilities.
Available rooms include:
Two self-contained bandas with double beds.
self contained banda with two twin rooms.
Two self-contained tents with double beds soon.
Four single rooms with shared bathrooms.
Campsite (can provide tents if needed)
Activities At The Lodge
Evening Cultural Sessions: Dance, drumming and cooking classes, craft demonstrations and performances at Nkuringo Cultural Centre
Community Walk: Visit a local homestead and school, and meet the Batwa people.
Gorilla tracking and bird watching
Volunteer programs: Wagtail can organize placements from one week to one year
Responsible Travel
The bandas are built using natural materials.
Local crafts are on sale at reception – all profits are returned to the artisans.
Wagtail carried out community development work through the neighboring Nkuringo Cultural Centre, which is starting a community IT project, supports orphans through Nkuringo Childcare and funds school fees for Batwa children.
Contact
Tel:
+256 392 969222 / 414 590408
Mobile:
+256 755 208775 / 772 220252
Email:
kanyamunyu@yahoo.com,
info@nkuringo.com
Web:
www.wagtailecocamp.com
Price
Self-contained bandas: $100 US per person
Self-contained tents: $100 US per person
Single rooms: 30,000 USh per person
Campsite (can provide tents if needed):
Pearl Supported