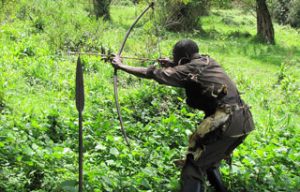 The Batwa Trail
Location: Mgahinga Gorilla National Park
The dense forests at the foot of the Virunga Volcanoes were home to the Batwa people: hunter-gatherers and fierce warriors who depended on the forest for shelter, food and medicine thanks to ancient knowledge passed down for generations.
When Mgahinga Gorilla National Park was established, the Batwa were suddenly evicted from the forest and forced to abandon their low-impact, nomadic lifestyle. Now landless, they work when they can for local farmers, and the only time they are permitted to re-enter their cherished forest is as tour guides on The Batwa Trail, where they invite visitors to discover the magic of their old home.
During this moving tour, the Batwa demonstrate hunting techniques; gather honey; point out medicinal plants and demonstrate how to make bamboo cups. Guests are finally invited to the sacred Ngarama Cave, once home to the Batwa King, where the women of the community perform a sorrowful song which echoes eerily around the depths of the dark cave, and leaves guests with a striking and moving sense of the richness of this fading culture.
Highlights
Switch off your flashlight in the Ngarama Cave, as ghostly singing begins to echo in the pitch darkness
Making fire requires team work! Watch your Batwa guides create fire to smoke out bees
See a traditional Batwa grass hut – quick to build and to demolish which was essential for this nomadic culture
Enjoy the lively dance at the cave´s entrance as the Batwa women sing a traditional song to welcome their guests
Walk through the pristine Mgahinga Gorilla National Park, with spectacular views of the Virunga Volcanoes
Responsible Travel
Most Batwa are unable to earn money to provide for their families, as they have no land of their own. Part of the fee goes directly to the guides and performers, while the rest is put into a community fund which will help pay for school fees and books, and purchase land.
The tour encourages the practice of traditional skills such as sourcing medicinal plants, making bamboo cups and using bows and arrows – skills which are being lost as the Batwa integrate with the surrounding communities
The income provides an alternative to illegal poaching in the Park
Package Includes
Guided tour and performances
Contact The Batwa Trail for more information
Email:  uobdubatwa@gmail.com
Phone: +256 486 430 140
Duration
Full day tour (Note: this tour involves hiking at an altitude of around 2,500m for at least 4-5 hours.)
OR
Half day tour
What to Bring
Packed lunch and plenty of drinking water
Good hiking shoes or boots, sun screen and a hat
The weather varies greatly at this altitude – we recommend bringing layers, including a waterproof jacket
Tips for the guides and performers
Price
$80 US per person (includes UWA park entry fee)
Book with these operators & lodges: