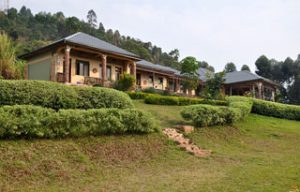 SilverBack Safari Lodge
Location: Bwindi Impenetrable National Park
This small and cozy lodge is perched high above a valley, overlooking the dense, gorilla-inhabited forest of Bwindi Impenetrable National Park. The view is absolutely stunning, and bird watching and primate viewing are possible right from the doorway of your room. Silverback Lodge's architectural design is simple, natural and filled with the character that GeoLodges Uganda has become known for. The seven rooms were designed using local materials, such as forest vines, sisal rope and purple slate stone, and the forest and clouds that drift by in the valley can be admired from the veranda.
The restaurant's unique and creative menus include local and international cuisine, served in comfortable surroundings. The well-stocked Summit Bar is perfect for sharing the day's adventures. Alternatively, you may choose to stroll through the large gardens along the butterfly and bird trails.
Lodge Amenities
International restaurant and Summit Bar
Veranda with forest views
Large gardens
Seven en-suite rooms
Hot running water
On-site wildlife viewing
Room Description
SilverBack Lodge offers seven rooms built next to each other using local materials, such as the forest vines, sisal rope and purple slate stone. Each room has an ensuite bathroom and comfortable chairs on the veranda, where you can sit and admire the stunning scenery of Bwindi Impenetrable Forest and clouds that drift by in the valley.
Activities At The Lodge
Gorilla Tracking: The most exciting experience that Bwindi has to offer.
Primate Trekking: Hike through the Impenetrable forest in search of chimpanzees
Birdwatching
Hikes: Explore our six varied hiking trails
Safari day trips: Visit the unique tree-climbing lions of Ishasha, a two-hour drive away.
Responsible Travel
Tourism revenue has funded a number of initiatives including a child school sponsorship program and a tree nursery project. Seedlings raised in a nursery are given to local families or planted in the community forest.
Organically grown fruit and vegetables are sourced from the local community
Income from the sale of crafts is used by the craftswomen to buy goats and pigs, as well as the promotion of a household savings and investment programme.