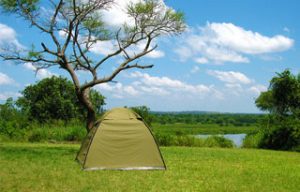 Shoebill Campsite
Location: Bordering Murchison Falls National Park
For one of Murchison Falls National Park's most intimate, wild and memorable accommodation experiences, why not stay at Shoebill Campsite? Located near the entrance to Murchison Falls National Park, Shoebill Campsite offers unspoiled views of the blue waters of the River Nile, expansive skies, and ultimate peace and tranquility.
After a day at the falls or on a game drive through the park, you will appreciate this calm spot to relax in the seating area around the campfire, listening to the calls of hippos and watching the stars. Guests must provied their own tents.
Guests can choose to prepare their own food if they bring their equipment, or eat at the superb Nile Safari Lodge restaurant just two minutes away on foot. They also have access to the Lodge's swimming pool overlooking the river.
---
Campsite Amenities
Campfire
Seating area
River views
24 hour ranger
Access to Nile Safari Lodge's restaurant, bar and pool
Guests must provide their own tents and cooking equipment
Activities At The Lodge
Boat Ride: Sail around the island in the river and down to the delta – ideal for shoebill spotting! $50 per boat.
Bird Walk: With an experienced guide. $10 per person.
Game Drives in the Park
Boat Ride to Murchison Falls: Excellent for wildlife spotting
Hike to the Falls: The only way to get up close!
Village Walk: Visit nearby Mubako community with Francis, a community member and guide $10 pp .
Cultural Performances: Mubako Community perform traditional songs and dances around the camp fire.
Responsible Travel
As the campsite has neither electricity nor running water, it is very environmentally friendly. Nile Safari Lodge uses solar powered lighting. GeoLodges spport the local community of Mubako with evening performances by their cultural groups. Many staff are also from this community, and local laborers are employed when possible. Paper beads created as a result of the the Bead for Life project are on sale (through GeoLodges´ Earthworks Foundation)