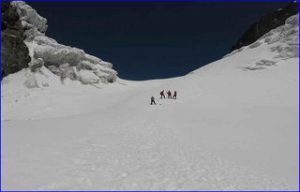 Rwenzori Trekking Services
Location: Rwenzori Mountains, Kasese
Come discover the gorgeous Rwenzori Mountains of Africa. See these incredible mountains escorted by our knowledgeable guides and take in diverse flora and fauna of the region. Although we specialize in mountain trekking, we also offer services to other Ugandan National parks, including gorilla and chimpanzee tracking and birding tours.
Activities:
Mountain trekking
Chimpanzee and gorilla tracking
Birding tours
National Parks included:
Rwenzori Mountains National Park 
Queen Elizabeth National Park
Murchison Falls National Park
Description of guides:
Our guides are mostly from the local community; all are from Uganda. We employ female guides to create a better relationship with our female clients and to give equal opportunity to Ugandan women. We are finding that our female guides are a valuable asset in providing more customer care to our clients!
Available languages: English and Lukonzo 
Responsible Travel
We set up and developed community tourism trails outside the National Park so that the community also benefits from tourism and can realize the benefits of tourism and conserving the environment.
Following our believe that education is the key to solving the problems of unemployment and poverty, and to give young people the skills necessary to become future tour guides, we built three classrooms and three teachers' houses at Kyambogho Primary School.
For each day a tourist treks on our trail, $5 goes to various community or cultural development programmes organized and run by the local community or kingdom.
Contact
Tel:
Kilembe office:
+ 256 (0)776114442
Kampala office: 
+256 (0) 774114499
Email:
rwenzoritrekking@gmail.com
Website:
www.rwenzoritrekking.com
Contact us for more information about Pearls of Uganda
Email: info@pearlsofuganda.org