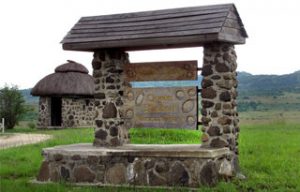 Queen´s Pavilion
Location: Near the entrance to Queen Elizabeth National Park
Just 800 metres from the equator monument, and overlooking a thrilling landscape of crater lakes is the Queen´s Pavilion, a community-run internet café. This is the perfect spot to revive yourself after an early morning safari with a cup of Ugandan tea or coffee. You can email exotic tales of wild African adventures to your friends and family back home, as you listen to the elephants trumpeting on the dry plains below, or sit outside at one of the shaded tables and enjoy the savannah views.
It´s also a great place to come for souvenirs – the Centre has a selection of locally made handicrafts including handwoven baskets and paper bead jewellery.
Background
The Queen´s Pavilion was set up by Conservation Through Public Health (CTPH), a non-profit organization which was founded by Gladys Kalema-Zikusoka, a veterinarian. She began the project following an anthrax outbreak in the local area, and CTPH trained 10 volunteers from each affected community, with the aim of improving public education and awareness.
Information
Opening times: Queen´s Pavilion is open from 8am-6pm, seven days a week.
Café: The café serves coffee, tea, hot chocolate, beer, soft drinks, biscuits and crisps.
Accessibility: The centre can be reached from Kasese by special hire or boda boda. It is near QENP, around 800m from the Equator monument.
Responsible Travel
Profits from the café and computers subsidise Makerere University-certified IT courses for the community.
Using a motorbike donated by Microsoft, trainers travel to the local villages with laptops to carry out the classes.
The course lasts six weeks, with classes taught for two hours a day from Monday-Friday. Students make a small contribution to their fees, depending on their income.
Contact
Stella Mboneko, Community Telecentre Officer
Office:
0414 531389
Mobile:
0774 408124
Website:
www.ctph.org
Email:
stella@ctph.org
Price
Internet is 200 UGS per minute for foreigners and 50 UGS per minute for locals.
Pearl Supported