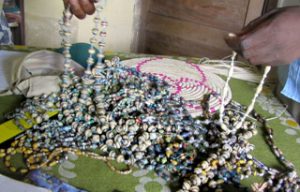 Nyundo Valley Hill Bandas
Location: Nyundo Village, 6km from the Buhoma entrance to Bwindi Impenetrable National Park
The residents of Nyundo were firsthand witnesses to climate change. They cultivated crops on the steep hillsides bordering Bwindi Impenetrable forest, but had noticed erosion, changing rain patterns and the disappearance of the forest´s characteristic mist. Ultimately, their crops began to fail. The Nyundo Community Conservation Project was developed in response to this. The community decided to protect the land and allow the forest to grow back, and now the trees, the rains and the mist have all returned to Nyundo.
Experience life in this beautiful rural region of south western Uganda: sleep in a cozy, traditional banda; wake up to the mists swirling over the dark hillsides of the Impenetrable Forest; and enjoy delicious meals freshly prepared by the village women using local ingredients. The residents of Nyundo welcome you into their village, and your stay here supports local livelihoods and forest conservation.
---
Lodge Amenities
Private bandas in secluded gardens
Dining room for breakfast, lunch and dinner
Room Description
Five bandas, constructed in traditional style using natural materials, are designed to represent the traditional African family homestead. All bandas have sheets and mosquito nets. Latrines and showers are shared between the bandas. The showers have cold running water, with hot water provided on request.
Available rooms include:
Three bandas with two bunks (each sleeps four)
One banda with one bunk
One banda with a single bed
Activities At The Lodge
Traditional Skills Trail: Learn about farming, cooking and traditional midwifery in the region. 2 hours, 20,000 USh.
Waterfall Hike: Visit the bath of the kings, and learn of Nyundo's history with the village elders. 2 hours, 20,000 USh.
Hill Hikes: Trek the Congo-Uganda border, with astonishing views of the Rwenzori Mountains, the Virunga Volcanoes and the Rift Valley. 4 hours, 20,000 USh.
Responsible Travel
Everyone involved in the tourism project is from Nyundo. There is a craft hut selling items made by local women and orphans.
Almost all food is grown in or around the community, and is both organic and traditional Ugandan food.
Tourism provides an alternative income for those who have abandoned their farms in order to let the forest grow back and conserve the local environment – discouraging poaching and inappropriate land use.
The craft hut sells baskets and paper-bead jewelry made by local women and children, and banana leaf dolls made by local orphans.