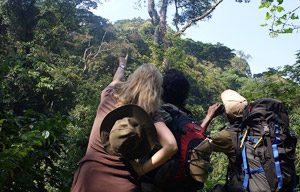 Nkuringo Walking Safaris
Nkuringo Walking Safaris specializes in guided nature walks between Buhoma Village and the town of Kisoro, in southwestern Uganda. We trek through the dense Bwindi Impenetrable Forest, home to mountain gorillas, and emerge at the charming, traditional hilltop community of Nkuringo, and vice versa.
This experience offers a low-cost inside perspective of village life in rural Uganda and highlights the wonders of Bwindi Impenetrable Forest, all at your own pace. Traveling with our professional local guides, you will enjoy the warm welcome that Ugandans are known for, and we provide the opportunity to immerse yourself in the fabric of rural Uganda few others get to discover. Nkuringo Walking Safaris employs both professional walking guides and driver guides; all are Ugandans.
We also operate an eco-friendly camp where our guests may stay in before or after the walking safari. We offer multi-day walking activities in the vicinity and within Bwindi Impenetrable National Park. We are also instrumental in facilitating our guests' onward travel with our professional driver guides and vehicle support, and develop bespoke itineraries to all Uganda's National Parks.
---
Activities Offered
Walking safaris
Cultural encounters and village walks
Forest walks
Bird watching
Tailor-made trips to all Uganda's national parks
Volunteer placements
Responsible Travel
Nkuringo Gorilla Camp has rainwater catchment and storage systems, eco-toilets and a collection point for plastic, metal and glass to be taken to Kisoro and recycled.
All guides are local, and tours offer the chance to interact with the local Bafumbira, Batwa and Bakiga residents. The guides will act as interpreters when necessary.
Nkuringo Walking Safaris is an equal opportunity employer, and we are training female guides to be come part of the walking guide team.
Nkuringo Gorilla Camp also works closely with the Nkuringo Youth Group, pre-school, craft shop, community library and other local initiatives, and can arrange long-or short-term volunteer placements.
Available Vehicles
Where clients require vehicle support, we operate both Land Cruiser and 4×4 safari minibus vehicles. They are equipped with pop up safari roofs and have a carrying capacity of between three and eight passengers.
Pearls Supported
Contact
Related items (by Catalog)