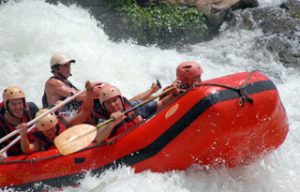 Nile River Explorers
Location: Mgahinga Gorilla National Park
Since 1996, Nile River Explorers has led the way in adventure tourism, with a focus on kayaking and rafting on the River Nile at Jinja.
The White Nile offers possibly the best grade 5 white water rafting in the world, but we offer experiences on the Nile that allow every level of thrill seeker and every age group a chance to enjoy this beautiful river. We are partnered with the finest kayak school on the continent, Kayak the Nile, and are strongly associated with the best of other local adventure tourism operators.
Staffed with a team of highly experienced travel and activity professionals, Nile River Explorers offers the largest range of river and riverbank activities to individual travelers, groups and businesses. We continually bring international trainers to update our staff, and offer these trainings to other local companies as a service. All of our equipment meets and exceeds international safety standards and is checked and replaced regularly.
Our staff are only too happy to answer your questions with up to the minute accuracy as well as seamlessly organize your activities, whether they are offered by Nile River Explorers or by any of our adventure partners in the region.
If we don't know the answer, we usually know someone who does!
---
Activities Offered
Rafting
Kayaking
River boarding
Horseback riding
Quad biking
Mountain biking
Sunset cruises
We can arrange accommodation in Jinja town or overlooking the Bujagali Falls. Alternatively, we have one-day rafting adventure trips with free transport to and from Kampala.
Responsible Travel
With the help of the Mvule Project, Nile River Explorers has begun a reforestation program along the banks of the Nile, which includes the planting of indigenous hard wood trees, fruit trees and fast-growing trees suitable for firewood and building.
In celebration of 15 years of operating on the Nile, our commitment is to plant a tree for every person who rafts with us in 2011, and in the coming future, let you plant the tree yourself.
Nile River Explorers also organizes the annual Rhino Raft Race a unique rafting fundraising day held in support of Rhino Fund Uganda.
Related items (by Catalog)