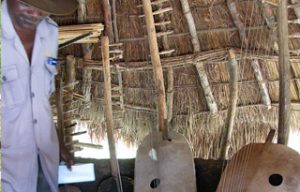 Mubako Cultural Campfire Performances
Location: Bordering Murchison Falls National Park
The remote community of Mubako is located beside the sprawling savannah of Murchison Falls National Park, in the sun-drenched northwestern region of Uganda. The village is a collection of traditional thatched mud huts around a central clearing, where villagers gather to escape the midday sun und the shade of a large tree. In this dry climate, the community cultivates cotton and cassava, which is ground into bread flour or fermented to make waragi gin.
Mubako has a small craft shop selling carved wooden sculptures and handwoven items made by community members. At dusk, the local cultural groups Alur and Campfire perform vibrant songs and dances around the campfires of local lodges, accompanied by the beautiful sound of the adungu. This instrument, originating from this region, is made of cowhide and twine, and the harmonies of the various-sized adungus against the backdrop of a Nile sunset is wonderful.
Highlights
Hike the dusty road to Mubako from the nearly Nile Safari Lodge. Your friendly local guide will share tales of daily life in the community.
Watch the young dancers put on a lively show as the sun sets over the backdrop of the Nile
Enjoy the unique sounds of the adungus and the unusual percussion – all these instruments are made by hand!
Responsible Travel
Mubako Community has no access to Murchison Falls National Park, which means the people can not hunt or fish there. Generating income through village tours, the sale of handicrafts and cultural performances gives residents to benefit from the Park, as it brings tourists to the region.
Farming is difficult here thanks to the dry climate, and a limited diet can lead to malnutrition. There are few economic opportunities here, but with the money they earn from tourism, the community can buy produce from local markets.
The money also allows them to pay school fees, and to support a local nursery, which has around 90 children aged from 2-6 years.
Contact us for more information
Email:  info@pearlsofuganda.org
Phone: +256-414501866 / +256-772657700
Duration
One hour to 90 minutes
What to Bring
Cash for tips and craft purchases
Camera
Price
Free for lodge guests
Book with these operators & lodges: