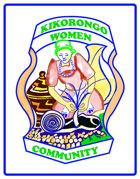 Kikorongo African ArtCraft Workshop
Location: At lodges in and around Queen Elizabeth National Park
Traditional crafts hold a special significance in Ugandan villages – whether it is a small basket containing groundnuts as a sign of friendship; a calabash placed on top of a house to ward off evil spirits; or a traditional healer´s woven purse, filled with natural remedies. Kikorongo Women Community invites you to learn some of their traditional craft skills during this workshop led by two experienced teachers.
Students are taught how to weave baskets and bowls using natural fibers – it´s not as easy as the teachers make it look! You will also learn how to make colorful paper beads from magazines, which you will be able to make into a unique necklace. And of course, if your own craft skills are not up to scratch, beautiful items made by members of the women´s group, such as baskets, bowls, purses and woven belts are available for purchase.
Highlights
Leave your mark – weave your own little section of the community basket. All Kikorongo´s guests are invited to collaborate in the creation of this basket.
Make your own paper bead necklace. These simple, colorful items provide a source of income for the women  – and an opportunity to recycle waste paper.
Responsible Travel
Several women in the community group were widowed as their husbands were poachers. The performances give both married and widowed women the chance to uplift their social, cultural and economic status.
The average household contains six people, but each household makes less than 40,000 Ugandan Shillings (less than $20 US) per month, so your money goes a long way!
Through dance and drama, the Kikorongo Women Community educates community members about safe motherhood, the importance of clean drinking water and hygiene, handicraft making and reducing poaching. Money raised through tourism allows this education to continue.
The community has suffered from a loss of crops due to damage by wild animals. Participating in tourism activities allows them to benefit from the existence of the National Park, rather than being threatened by it.
Contact us for more information
Email:  info@pearlsofuganda.org
Phone: +256-414501866+256-414501866 / +256-772657700+256-772657700
Duration
One hour
What to Bring
Tips for your teachers and extra cash for craft purchases
Price
25,000 USh per person
Book with these operators & lodges: