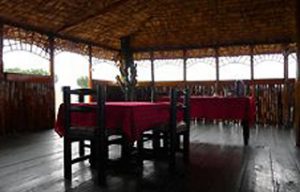 Hippo Hill Camp
Location: Hippo Hill Camp is in the buffer zone of Queen Elizabeth National Park-Katwe town.
Established in September 2006, Hippo Hill Camp is the only luxury tented Camp in Queen Elizabeth National Park. 
Hippo Hill Lodge is a Camp in the wilderness!! Offering travelers a "real adventure". Hippo Hill Camp is in the buffer zone of Queen Elizabeth National Park-Katwe town. Even the drive through the Park to get to the Camp is quite an impressive experience for visitors.
Queen Elizabeth National Park has 95 mammal species and 606 bird species. It covers a total area of 2,056 sq km and its altitude is 910 m at Lake Edward to 1,390 m in the crater area. The mean maximum temperature for the region is 28 degrees C, and the mean minimum is 18 degrees C.
The Camp welcomes you with the breathtaking scenery of the Park and the cool soothing breezes from its surrounding lakes.
The Camp is a must see place! It is spectacularly well-built on a hill overlooking Kitako and Kabazimu Islands. It is also surrounded by Lake Edward, the Katwe salt Lake and Munyanyange crater Lakes that contain lots of flamingoes, Hippos, buffalo and other other animals. The extraordinary landscape of the crater lakes was created by volcanic activity some 8,000 to 10,000 years ago. The Camp blends into its natural surroundings to enable visitors to feel as if they are part of the wildness.
Lodge Amenities
On-site restaurant
Tour/Travel desk
On-site Bar
Library/Reading Area
Souvenir/Gift Shop
On-site wildlife viewing
Room Description
The Camp presently offers 10 luxury tents with private toilets and hot showers. These tents are walk-in safari tents with their own en-suite facilities including cold and hot water. All tents are very well furnished to ensure comfort for all. No detail has been overlooked in the furbishment of these magnificent tents as they provide a perfect setting for relaxation. From the seclusion of your veranda, you can watch wild animals as they descend from the hill to quench their thirst and nibble the green grass.