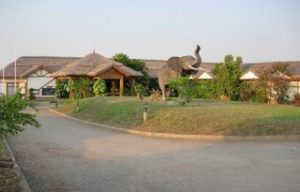 East African Explorers Safaris
Location: Entebbe
We organize tailor made safaris planned according to your needs, time scale and preferences to ensure you have a personal and unforgettable trip to Uganda!
---
Type of vehicle used:
Each vehicle has been developed and built to a standard we believe is comparable to no other. We operate our own vehicle fabrication workshop where a team of skilled workshop mechanics ensure your safari vehicle is in prime mechanical condition prior to it leaving on safari.
Vehicle amenities: air conditioning, customized for six passengers
Description of the types of guides used on the tours
Our guides are well trained with many years of on-the-road experience. Each has attended birding and wildlife courses to enhance an already substantial knowledge of local culture and history.
Available languages: English
National Parks included in itineraries:
Murchison Falls National Park
Queen Elizabeth National Park
Bwindi Impenetrable National Park
Lake Mburo National Park,
Kibale National Park
Semliki National Park a
Kidepo Valley National Park,
Rwenzori Mountains National Park,
Mgahinga Gorilla National Park;
Mount Elgon National Park,
Katonga Wildlife Reserve
Activities
Game drives through Queen Elizabeth National Park
Launch trips on the Kazinga Channel
Chimpanzee tracking into the Kyambura Gorge
Walks in the world famous Kyambura Gorge
Forest walks into Maramagambo Forest
Superb bird watching
Community, village and crater walks
Responsible Travel
We are an avid supporter of eco-friendly, sustainable and community based tourism. We value each tree and have implemented a tree-planting program that will continue to serve as a means for us to give back to the environment.
We train the surrounding communities in nature and cultural interpretation, handicraft and curios making, and overall guest relations. We also teach them to protect and preserve the attraction features in the area. 5% of our tourist proceeds are channeled back for sustainable management and informal and formal education to the local community groups.
We encourage youth group initiatives; we train the elderly to share information regarding culture and norms of the society as well as provide ecological and cultural conservation education. We provide allowances and meals at these trainings and we have developed cultural trails to increase the influx of both local and foreign visitors in the area.
Contact us for more information about Pearls of Uganda
Email: info@pearlsofuganda.org