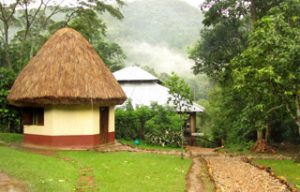 Buhoma Community Rest Camp
Location: Buhoma, at the entrance to Bwindi Impenetrable National Park
This fun, friendly camp is perched on a hillside at the entrance to Bwindi Impenetrable National Park. It's Buhoma's best value accommodation, and as an added bonus you may even spot a gorilla in the grounds!
Private, covered safari tents connected by paths winding along the hillside all look out onto the densely-forested slopes of the park, and individual balconies offer guests the chance to make the most of these exceptional views.
An open-fronted restaurant doubles up as a bar and common room – a wonderful space to meet fellow travelers, relax with a book or wrap your hands around a hot cup of tea to warm yourself on the chilly mountain evenings.
As the lodge is operated by the local community, you'll sleep well at night knowing that your stay is contributing to the wellbeing of the surrounding villagers!
Lodge Amenities
Open-fronted restaurant and bar with common room
Electricity
Hot and cold running water
Room Description
Furnished twin and double safari tents stand on platforms overlooking the forest. The tents have mosquito nets, sheets and balconies. En suite and shared bathroom facilities are available, with hot showers and flushing toilets.

Available rooms include:
Eight tents with en suite bathrooms
Five tents with shared bathrooms
One dormitory with six beds
Activities At The Lodge
Buhoma Village Walk: Activities include a performance by the Batwa and visits to a primary school and a traditional healer. 3 hours, $15
Gorilla Tracking: Bwindi's unforgettable experience
Birdwatching: Over 350 species of birds inhabit the Park
Responsible Travel
All staff are local, and the banana brewing and sale of handicrafts benefit local producers
The Batwa receive the proceeds from their performances and the community secondary school has been opened with funds from tourism. The Rest Camp also supports a local primary school and funds local nurseries.
A microfinance "circle" has also been started in the community
Price
Self-contained banda:
$120 full board for two people
$72 for a single person
$96room only (2 people sharing)
Non self-contained banda:
$96 full board for two people
$60 single person
$78 room only (2 people sharing)
Dormitory:
$12 per person bed only
$48 full board
Supported by