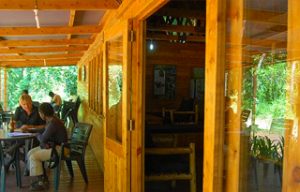 Budongo Eco Lodge
Location: Budongo Central Forest Reserve, inside Murchison Falls National Park
Get away from it all at Budongo Eco Lodge! These comfortable and spacious eco-cabins are tucked away in a dark, cool forest, home to chimps, monkeys, rare bird species and tree hyraxes, providing a wonderful mix of relaxation and adventure!
While getting prepared for your tour, enjoy a cold soda, hot snack or one of our delicious chocolate brownies. Taste our excellent fresh-brewed Ugandan coffee or have dinner in the warm light of the candles at night. Our restaurant offers a variety of traditional and international meals that will be served outside on the terrace, while enjoying the magical sounds of the forest.
The visitors' centre displays a selection of different animal skeletons, fossils and snares that were found in the forest, as well as detailed information about Budongo Forest Reserve. Our craft shop offers a small yet excellent selection of Uganda's crafts and gifts, made by local women using natural materials with simple and colorful designs.
Lodge Amenities
Restaurant and bar
Travel desk
Visitors' centre with local information and artifacts
Craft shop
On-site wildlife and bird watching
Solar-powered lighting and solar hot water
Room Description
Budongo Eco Lodge has five self-contained cabins constructed with natural materials to blend perfectly with the forest. One is double and four are twin/triple, with a sofa bed used as a third bed. All rooms have private bathrooms with solar-heated showers, dry toilets, private verandas, solar lighting and mosquito nets. There are also four dorm rooms with two bunk beds – each sleeps four guests. Dorms have shared showers with solar heated water, shared toilets and solar lighting.
Activities At The Lodge
Chimp Tracking: 2-4 hours. $50 (low season) $60 (high season)
Chimp Habituation: Spend a full day in the company of our distant cousins and study their behaviour. $150
Forest Walks: Join a guided walk on a network of trails. $15/$20 for 1.5/4 hour walks
Bird Walks: See elusive bird species such as the Paradise Flycatcher and the Chocolate-backed Kingfisher. $15/$20 for 3 hour/full day walks
Responsible Travel
The cabins contain eco-toilets, are solar powered and solar heated and contain energy saving bulbs.
All staff members are from the Boomu community, and laundry is done by women from the village.
Produce is supplied by the local community market, and the shop sells locally-produced crafts.