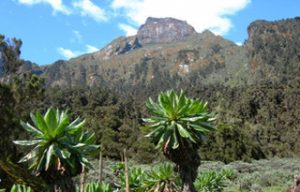 Acacia Safaris 
Location: Throughout Uganda
Located at the heart of Africa, Uganda has beautiful features including forests, lakes, rivers and mountains. Wildlife has steadily increased in the parks with a variety of game to see. The primates, especially the mountain gorillas, monkeys, chimpanzees and baboons, are a unique combination with thousands of species of birds.  
Whether your interest is mountain gorillas, game viewing, nature walks, chimp trekking, bird viewing, mountaineering, rafting, sport fishing, cultural activities or luxury hotels, Uganda is for you. Consider this magical country for your next destination with Acacia Safaris as your ultimate guide.
Acacia Safaris offers itineraries from 3 to 23 days to explore the beauty of Uganda. We tailor the package to suit your very needs, and over 50% of our safaris go through precious sites such as rainforests, Rift Valley, primate habitats, mountains, valleys, wetlands and much more. We also strive to preserve and celebrate the customs and cultures of the local people among which we operate.
---
Vehicle Amenities:
We have one of the largest fleets of vehicles in Uganda ranging from trucks, 4x4s, minibuses and saloon cars to full safari vehicles. All our vehicles contain air conditioning, first aid kits and window seats.  
Available languages:
National Parks included in itineraries:
Murchison Falls National Park
Queen Elizabeth National Park
Bwindi Impenetrable National Park
Lake Mburo National Park,
Kibale National Park
Semliki National Park
Kidepo Valley National Park,
Rwenzori Mountains National Park,
Mgahinga Gorilla National Park;
Mount Elgon National Park,
Katonga Wildlife Reserve
Responsible Travel
We are very conscious of the environment. Tree growing was one of the campaigns we started last year. This initiative was created to help minimize our environmental impact and promote conservation initiatives.
We support eco-friendly, sustainable and community based tourism in Uganda by ensuring that we feature these offerings throughout our tours.
We cater to the needs of volunteer workers by tailoring tours to their tastes.
Contact us for more information about Pearls of Uganda
Email: info@pearlsofuganda.org